6 Key benefits of having an Online Admission System for Schools in India
The admission season is the most critical time for any educational institution, and it has the power to determine the institution's performance throughout the academic year. With an increasing number of candidates each year, the admissions process entails much tedious but necessary paperwork.
The institutions must ensure an error-free online student admission system to achieve a high-quality outcome. In this case, an online admissions system could be helpful. With or without any human participation, online admission software administers the entire admission process.
It not only decreases the possibility of human error but also reduces the effort of the personnel. It enables the school administration to concentrate their efforts on matters concerning teaching and learning.
Following are six reasons every school should have an online admission system: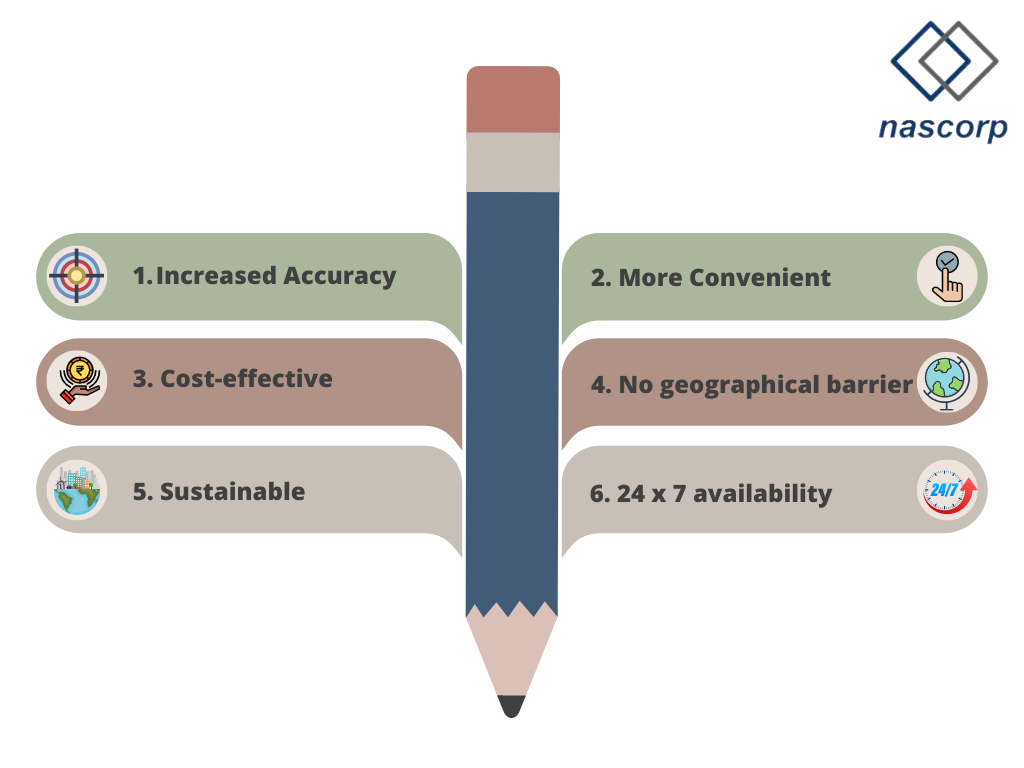 Fig. Benefits of Admission Management system
1. Increased accuracy: The documentation associated with the admissions process to a school can be cumbersome. The employees have to review various types of documents, thus increasing the chances of error. Such mistakes can be detrimental to the school's reputation.
The entire admissions process becomes error-free and considerably trustworthy with an online admission system. It contributes to the comprehensive efficiency of the institution.
2. More Convenient: Online school software for admissions smooth out every step of the admissions process, resulting in a speedy and effective method. A school administration must manage a large amount of work, from the submission of forms through the final admittance.
When accepting a student, the schools require handling and confirming many documents. This time-consuming process requires many human resources, which the schools must provide. Schools can automate all of these processes using an online admission ERP system, minimizing the need for staffing.
Furthermore, all applicant data is kept secure in the software database. As a result, schools prefer to adopt a school entrance procedure.
3. Cost-effective: With an online school admission system, schools save money on ads and infrastructure. Because the admission program performs all of the jobs, there is no need for additional personnel. It also eliminates all other costs associated with the application's processing.
This allows schools to save a significant amount of money. Simultaneously, monitoring online admission systems is far less expensive than paying for the complete offline admission infrastructure each year.
4. No geographical barrier: With the offline admission process, students from different locations cannot apply. It is inconvenient for students, but it also means that schools lose some of their best students.
Students can overcome any geographical limitations by using an online admission management system. They can now apply while sitting in their living rooms. They do not have to settle for fewer possibilities. It is helpful to both schools and pupils.
5. Sustainable: The traditional admissions procedure entails a lot of paperwork. Students must provide a slew of documents in addition to the application form. At the same time, schools must print many fliers, brochures, notices, and merit lists. An online admissions procedure removes all paper waste, making the process more sustainable and environmentally friendly.
6. 24 x 7 availability: School admission software, like geographical barriers, breaks down temporal barriers. Parents and students no longer have to stand in huge queues to submit applications within a specific time range.
On the other hand, parents do not have to bother going to the bank to deposit the admission money during banking hours. The software is available 24 hours a day, seven days a week, and allows students to apply and pay for the process at their leisure. This will enable schools to get more applications, boosting their exposure to qualified students.
Conclusion: , Technology, like many other sectors, is progressively taking over the education sector. With a pandemic averted, the online admissions system has become even more crucial to the overall expansion of the school business. Such approaches make the application and admissions process less onerous and more convenient for students and school administration.
While students do not have to be concerned about their geographical reach, schools do not have to be worried about their productivity or efficiency. As a result, an online admission system benefits all parties involved with an educational institution.
Nascorp is a school admission management system software supplier that assists educational institutions in running smoothly and efficiently. We provide intelligent school ERP software for various institutions with varying needs. With cutting-edge tools and technology, our online management system is a one-stop shop for any institution looking to increase productivity. Visit our website for more detailed insight into our services.
Tags: Online Admission Management System | Student Admission System | Admission Management System | School Admission Management System | Benefits Of Admission Management System | Admission ERP System | Online School Admission Software | Online Admission Process | Online Admission Software| Online Admission System | Online Admission System Software | School Admission Software