8 key benefits of School ERP software in 2022

Technology is becoming more familiar to the world, and people are adopting new technology to simplify their daily lives. Technology plays a significant role in improving education today. New technologies are being nurtured and adopted by schools to enhance student's learning patterns.
Students can learn visually by using VR in classrooms, making classrooms more digital with iPads and iMacs, and incorporating gaming into the classroom. On the other hand, school ERP software includes digital student report cards and complete academic journey tracking.
As school management has become increasingly important, let us understand what School ERP software is: ERP stands for Enterprise Resource Planning. In ERP systems, data sources are stored, managed, and analyzed to automate the organization's processes. By storing students, teachers, and other academic data centrally, Best schools' ERP software automates the process of managing schools digitally.
Below are 8 key ways School ERP software helps parents stay on top of their children's academic progress and improve their academic performance.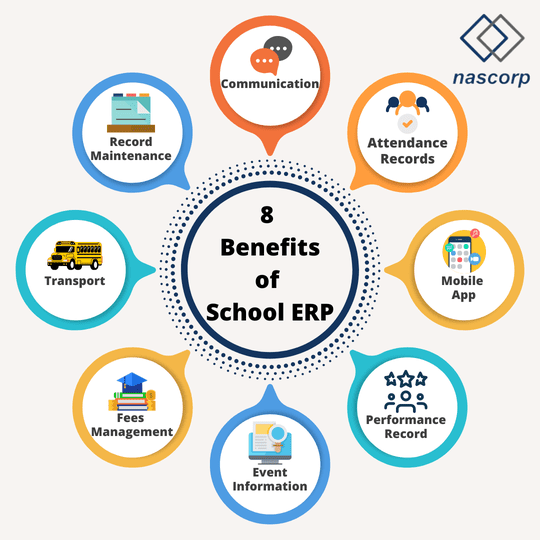 1. Improve communication between students, teachers, and Parents:
A collaborative learning environment helps students develop their academic and personal skills faster. With School ERP messaging and communication methods, it is much easier for parents and teachers to track and maintain a child's growth. In the right environment, parents and teachers can bring out the best in students and guide them to their full potential.
2. Attendance Records:
Online student attendance tools in school ERP software make tracking and analyzing attendance easier since they are more transparent and visual. Additionally, school ERP software enables sending attendance records via mobile apps and notifying absent pupils. Parents with access to smartphones can receive SMS notifications about a student's absence.
3. Parents & Teacher Mobile App:
The mobile app for ERP software enhances the school's communication channels. More information regarding school administration and students' achievement is provided via more sophisticated school software, such as MySchool. Apps for parents keep them informed about future announcements and events at school. Parents are unable to monitor all of their children's school-related activities, including exam schedules, results, homework, class schedules and payment of fees.
4. Student Performance Record:
Every school is required to periodically test its students to determine their aptitude for learning and comprehension. The best school ERP software in India makes exam creation and management more straightforward. The teacher can design a variety of assessments and distribute a schedule to the student's parents. The teacher can enter grades into the teachers' app and inform parents of his student's academic progress.
5. Inform About Upcoming Events:
Have you ever missed your child's parents-teacher meeting? Alternatively, on every noteworthy occasion in your child's academic career? If so, give up on going missing once more. Utilize the notice circular feature of the school ERP software to receive SMS and notifications on your phones before the event. The Parents app also allows you to view upcoming events.
6. Student Fee Management:
Parents from metro cities do not get enough time to visit their child's seminaries; hence School's ERP software helps them to stay connected with school operations. With advanced Parents apps, parents can now pay School fee online through different payment styles like UPI, Net Banking, Credit, or Debit card. Paying school fees has become simple these days. Parents can now see the whole fee structure of their child from time to time. Also, apps help to remind parents on a regular base of pending fees. They can also view transport, library and stationary fees to know further about how the school charges on monthly basis.
7. Transport Tracking:
Do you always have to wait at the bus stop for the school bus? What if you had access to a school bus in real-time? Use the Students app to track the school bus's whereabouts in real-time and arrive at the bus stop two minutes early or on time. Never miss a bus again, and find out how long it will take the bus to get to your stop as well as its distance. Parents may now track a bus's location and itinerary from their smartphone, learn about pickup times and commuting delays, and more.
8. Record Maintenance:
Through cloud-based ERP software, students' academic information, documents, images, videos, personal information, and financial information are kept in the data centre. Data security and availability are provided by cloud-based ERP software for business data.
How Can Nascorp Software help?
On their digital transformation journey, we assist a variety of School ERP Software. Our one-of-a-kind approach, which combines Schools, Parents, Processes and Technology, expedites the delivery of superior results to our clients and drives excellence. Want to know how our team of experts at Nascorp offer our reputed clients customizable, scalable and affordable School ERP software and solutions? Visit nascorptechnologies to know more.